click here for PTG online reservations
Hotel Update: We are past The Merriott Group Rate deadline but
online reservations Thursday through Saturday at the Marriott are
listing as low as 129.00 per night. You can also try the Marriott
local phone number 1-650-692-9100 between 9:00am and 5:00pm and
see what they can do for you.
We have arranged overflow hotel booking for Wednesday through Saturday
at the Clarion Hotel, 1/4 mile from the Marriot, at the same $96.00 Group
rate. Parking is $5.00 per day,and they have complimentary wireless
for your laptop in the lobby.
You will have to call the Clarion at: 650-777-7771, 9:00am-5:pm PST, for
reservations and use the Group Code PTG until Jan 30th.

San Francisco Airport Marriott
1800 Old Bayshore Highway
Burlingame, California 94010 USA
Phone: 1-650-692-9100
Phone: 1-800-228-9290 (group code: ptgptga)
PTG Group Rate: $96.00 per night + tax (cancellation policy)
Hotel Group Rate Cut-off Date: Register before, or by Mon Jan 22nd
WARNING!! If you miss the Hotel Cut-Off date, the rate goes to $229.00 plus tax!
Fax: 1-650-692-8016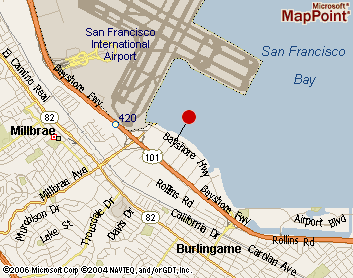 Property Information
11 floors, 661 rooms, 25 suites
661 The Room That Works guest rooms
27991 sq ft of total meeting space 27 meeting rooms
1 Concierge Level
Check-In and Checkout
Check-In: 3:00 PM
Checkout: 12:00 PM
Express Check-In and Express Checkout
Video Review Billing, Video Checkout
Parking
On-site parking, fee: 1 USD hourly, 17 USD daily
Valet parking, fee: 20 USD daily
High-speed Internet access, business center, Express Check-in/Check-out,
concierge services Flexible meeting facilities and services complemented
by Marriott's renowned meeting expertise Easy access to major Bay Area
freeways and business parks.
Cancellation Policy: If for some reason, a room reservation must be cancelled,
it must be done so at least 48 hours in advance of arrival date.
Any cancellation occurring within 48 hours of arrival date will be
assessed a charge equal to one night's room and tax